From Gold to Ceramic to Zirconia: Which Crown Material Is Best?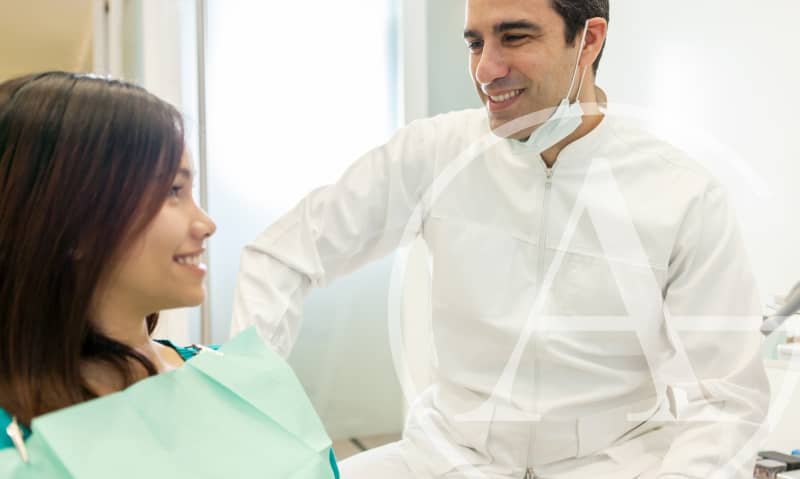 Restore the look and function of your tooth with a dental crown.
Dental crowns are an excellent treatment option for saving a damaged or decayed tooth. The treatment saves the roots and provides a protective cover to stop further damage. But with so many options available, it can be difficult to know which is the best crown material.
Understanding the basics and benefits of each type of crown material is a great place to start.
Gold Crowns
Gold has been used in various dental applications since prehistory. The easy-to-work-with and biocompatible metal allowed for fillings and crowns long before modern dental technology existed. Today, gold crowns are still used in some applications.
Gold crowns are highly resistant to corrosion, a must-have trait for any material that's going to sit in your mouth. They are also very strong and can easily bear the pressures involved in chewing.
One of the unique benefits of gold crowns is their softness. While it is strong, gold is considered a soft metal, so it doesn't cause any wear when it makes contact with other teeth in your mouth. This makes them a good option for patients dealing with significant wear.
Gold crowns have a distinct appearance, which can be either a benefit or a downside. Some people choose gold crowns for their style; however, many people don't want a conspicuous crown and would prefer something that looks like a natural tooth. For this reason, gold crowns are generally only used to fix back teeth.
Porcelain Crowns
Porcelain crowns are among the most widely used modern dental crowns. Porcelain is a type of ceramic that's well known for its strength and unique appearance. It's slightly translucent, just like your natural tooth enamel, which makes it an excellent option for natural-looking dental crowns.
While porcelain is a strong material, it's not quite as strong in terms of durability and strength compared with the latest dental ceramics. They are a bit more prone to cracking and chipping than other options available today, but are still durable enough to make them a common choice when appearance is a top priority.
Porcelain crowns are made by specialty dental labs, which means you'll have to go a few weeks with a temporary crown until your final crown is ready.
E.max Ceramic Crowns
E.max crowns are among the latest developments in tooth crown technology, made of a ceramic material called lithium disilicate.
They are often touted as the best crown material for restoring front teeth. Like other ceramics, they provide impressive strength and durability. In fact, they're even more durable than natural teeth.
One of the reasons why they're chosen for front tooth crowns, in particular, is their natural appearance. While many other types of crowns can match the color of your natural teeth, there's more to creating a natural crown than color.
Enamel is a slightly translucent material, and E.max crowns are also slightly translucent, making them look more like natural teeth. They're similar in this way to traditional porcelain crowns, although much stronger and more durable.
Zirconia Crowns
Zirconia dental crowns are among the most widely used crowns today. They are another type of ceramic dental crown, but made with zirconium dioxide.
These crowns provide exceptional strength. They have great durability and are also a long-lasting choice. Like other types of ceramic materials, they can be matched to the natural color of your teeth.
However, zirconia doesn't have the same translucency as e.max and porcelain crowns. This can make it seem a bit off when used for front tooth crowns. Given the near-match of its appearance and its durability, zirconia is a common choice for teeth near the back of the mouth.
Same Day Crowns
Traditional dental crowns have always required a significant wait between your first and final appointment. In order to create your custom crown, your dentist would take a physical impression and ship it to a dental lab. At the dental lab, they would use the impression to make your dental crown and then ship it back.
You would receive a temporary crown to protect the prepared tooth while you wait for your permanent crown. Once your dentist received the finished crown, you would come in for another appointment, and they would place the permanent crown.
Today, you can take advantage of same day crowns to repair your smile in just one visit. There's no need for physical impressions, weeks of waiting, or dealing with a temporary crown.
CEREC crowns use the latest 3D scanning technology and in-office equipment to make a perfect dental crown without the wait. Your dentist can create and place your final crown all in the same visit. This technology is suitable for both e.max and zirconia crowns.
Same day crowns provide the same benefits as you would receive from a crown made in a dental lab. In fact, they're often a better fit and can be more affordable as well. This exciting new dental technology makes dental crown placement a smoother and more comfortable experience.
Find the right crown for your needs from the best cosmetic dentist in Dallas.
Your dentist can help you determine which of these options is the best crown material for you. At Dallas Cosmetic Dental, we take the time to get to know each of our patients and will tailor your care to match your unique needs. We provide both e.max and zirconia crowns, and when you opt for a same day crown, you can walk out of our office with a beautiful smile in one visit. Book an appointment today to see which dental crown is right for you.