Comprehensive, Highly Aesthetic Cosmetic Dentistry
Love your smile and your dentist.
A Comprehensive Approach to Beautiful Smile Results
The way you feel about your smile is personal and important. Who you trust with your smile is too. At Dallas Cosmetic Dental, you're in the best hands.
Dr. Alhadef has completed extensive training at the Las Vegas Institute for Advanced Dental Studies (LVI) and has been practicing cosmetic dentistry since graduating from dental school in 1985. He has thousands of hours of continuing education in addition to having performed thousands of cosmetic dental restorations with beautiful results. Dr. Alhadef and the Dallas Cosmetic Dental team can provide you with the healthy, natural-looking smile you want and deserve.
Natural-Looking Solution To Boost Your Aesthetic
Porcelain veneers are an excellent cosmetic dental solution for a wide range of aesthetic problems you may be experiencing. If you are dissatisfied with the color of your teeth or have chips, cracks, unevenness, or gaps, this may be an ideal option. Also, Dr. Alhadef can place multiple porcelain veneers on both the top and bottom arches, allowing you to gain a completely new smile in just a few appointments. Porcelain veneers mimic the translucency of natural enamel, giving you wonderful, natural-looking results.
Dental veneers are thin shells of ceramic material affixed to the front surfaces of your teeth. These are wonderful cosmetic options because they are customized and colored to create the exact smile you envision. They are not false teeth; they are simply bonded to the front of your existing teeth, providing a new, dazzling, smile that conceals any chips, stains, or gaps you may have. When placed by an experienced cosmetic dentist like Dr. Alhadef, they are just as bright and beautiful as your natural teeth.
Improve
Your Smile
Boost Your
Confidence
Protect
Your Health
Brighten your smile and erase years.
Having a bright, white smile is one of the best ways to face the world. Whitening products can be found everywhere these days, and many people try them in hopes of obtaining a luminous new smile. Unfortunately, most of these over-the-counter products produce underwhelming results. Dr. Alhadef whitens teeth using two different types of teeth whitening treatments. First, Dr. Alhadef can brighten your smile in his cosmetic dentistry studio using Zoom! With Zoom, you can achieve a whiter smile in just one short office visit using a combination of professional whitening gel and a high-intensity light. The second type of whitening is an at-home treatment, which Dr. Alhadef can prescribe. With this treatment, Dr. Alhadef will provide you with custom-designed trays that you fill with special whitening gel and wear in the comfort of your own home. Depending on the treatment prescribed, you may either wear the trays while you sleep or wear them for just a few hours each day.
Dr. Alhadef is an experienced, qualified Dallas cosmetic dentist. If you would like to have wonderful, white, natural-looking results, he can design a custom treatment plan that will brighten your smile in much less time than typical over-the-counter products.
Giving You Something To Smile About
Invisalign's clear aligners are the most popular alternative to conventional braces. The aligners are also useful for correcting oral health issues arising from a misaligned jaw. Dr. Alhadef uses this nearly invisible orthodontic treatment to resolve overbites, underbites, open bites, crossbites, spacing, crowding, and more.
Invisalign aligners achieve their remarkable results by employing a succession of aligner trays that softly hug your teeth, directing them to their appropriate locations and orientation. Made to order by your dentist using cutting-edge 3D crafting, your customized trays maintain a secure yet comfortable fit the moment you first try them on.
For a Flawless Smile After Tooth Loss
If you're missing one or two teeth, there's a solution! Modern technology and improved materials now work together to help replacement teeth look more natural than ever and ensure that you have plenty of options when it comes to choosing a treatment.
Dental bridges are one of the most popular tooth-replacement options; they consist of two crowns that are fused to a pontic, or false tooth. The crowns and pontic are discreetly fused at the points where natural teeth brush up against each other. Porcelain in particular is very durable and highly stain resistant. Its gloss mimics that of your natural teeth, and the color is carefully matched to the rest of your smile. All of this works together to help the bridge blend naturally with your other teeth—no one will know it's even there!
In addition to restoring your natural smile, dental bridges protect you from the harmful effects that missing teeth can have on your oral health. Without anything in the gap, your teeth will begin to shift into it, making it harder to brush and floss effectively. This increases your risk of tooth decay and gum disease, which can cause you to lose more teeth if left untreated. Placing a bridge in the gap, however, keeps your teeth where they belong.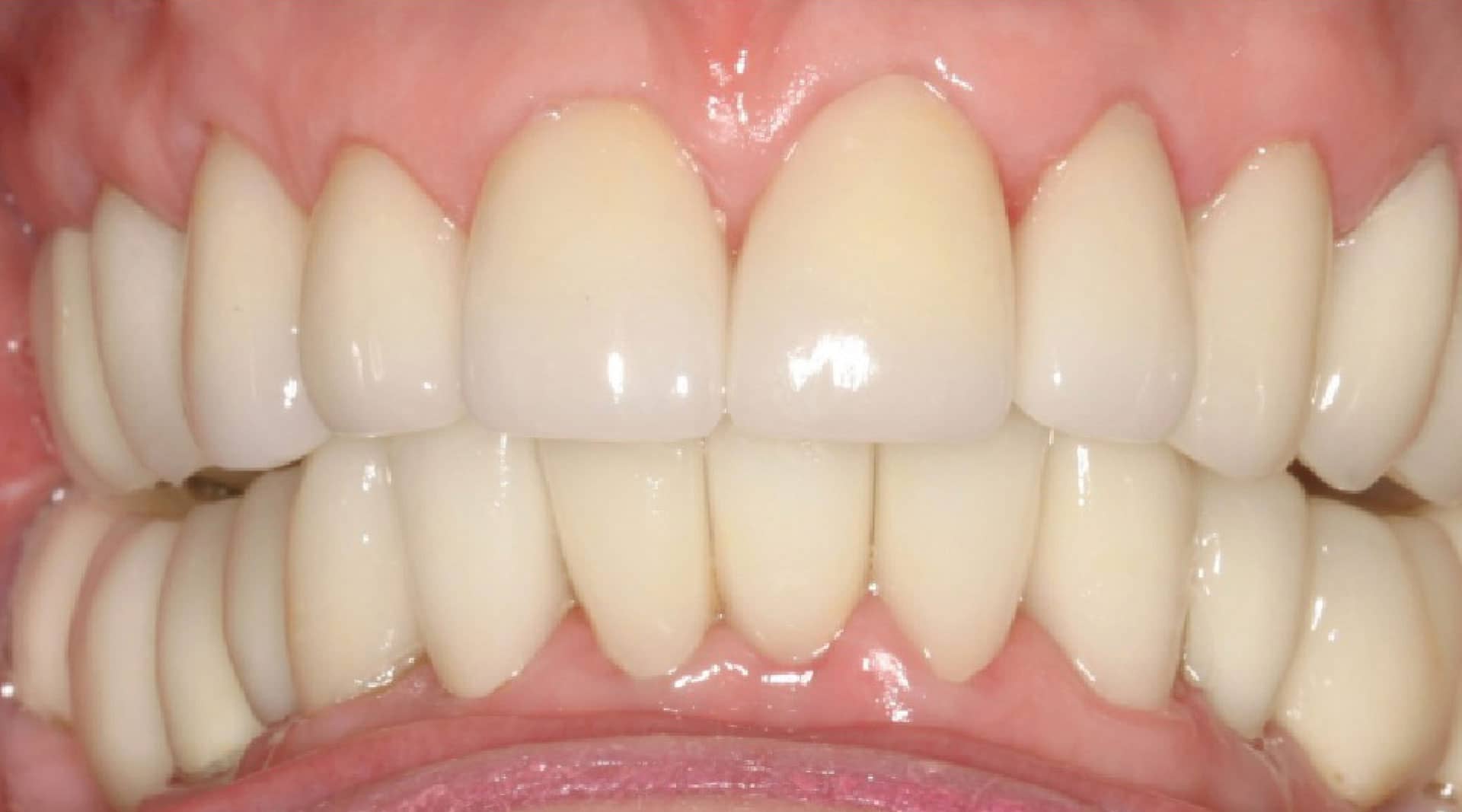 Real Patients. Real Results.
This patient came out of the final treatment beaming! In fact, she now loves to smile and can eat whatever she wants with no pain.
Visit Smile Gallery
Modify your smile and protect your oral health.
Dental crowns are tooth restorations that cover teeth that have become too damaged or decayed to be good candidates for other restorations, such as fillings or dental bonding. Dental crowns are a great way to protect vulnerable teeth and to restore the function and strength of your bite. They're also great options for changing the look of your smile if you aren't a candidate for veneers.
Dr. Alhadef mainly uses e.max crowns, which are durable and lifelike. They have an ideal blend of translucency and natural appearance that make them perfect for front teeth. Dr. Alhadef also uses zirconia crowns. Zirconia is often considered to be the strongest. The zirconium dioxide is durable, stain resistant, and mimics the look of your natural teeth incredibly well. Dr. Alhadef carefully chooses the gloss and color of the crown to match the color of your natural teeth, so no one will even know it's there.
Whether you have a new cavity or an old one that was filled with an amalgam filling, a tooth-colored filling is a durable, attractive option to preserve your natural tooth. Dr. Alhadef will remove the decayed portion of your tooth and then preserve it with the tooth-colored filling, made from a composite resin material, to prevent further damage. With the experience and eye of an artist, Dr. Alhadef will then shape the filling material to build the tooth back in an aesthetically pleasing way.
We also offer porcelain fillings, which are even more durable. You can discuss which option is best for you and your specific needs with Dr. Alhadef and his staff
It's never been so easy to have the smile you want.
If you have a gummy smile that you dread seeing in photos, you might find it hard to flash others an easy, carefree grin. Thankfully, however, gum contouring can free you of your gummy smile once and for all, instilling confidence in your smile after just a single visit.
Gummy smiles are caused by an excess of gum tissue over your teeth—beneath your gums, your teeth are an average length. Gum contouring involves expertly removing the excess gum tissue, allowing more of your teeth to be visible in your smile. Since this does involve cutting your gums, Dr. Alhadef administers local anesthetic before he begins in order to keep you comfortable. He then uses a laser to trim the excess gum tissue away, careful to avoid removing too much and exposing the roots of your teeth. In contrast to the traditional scalpel method, the laser results in better precision, less bleeding, minimal swelling, and faster healing time. The benefits to your smile will be immediate and dramatically improved.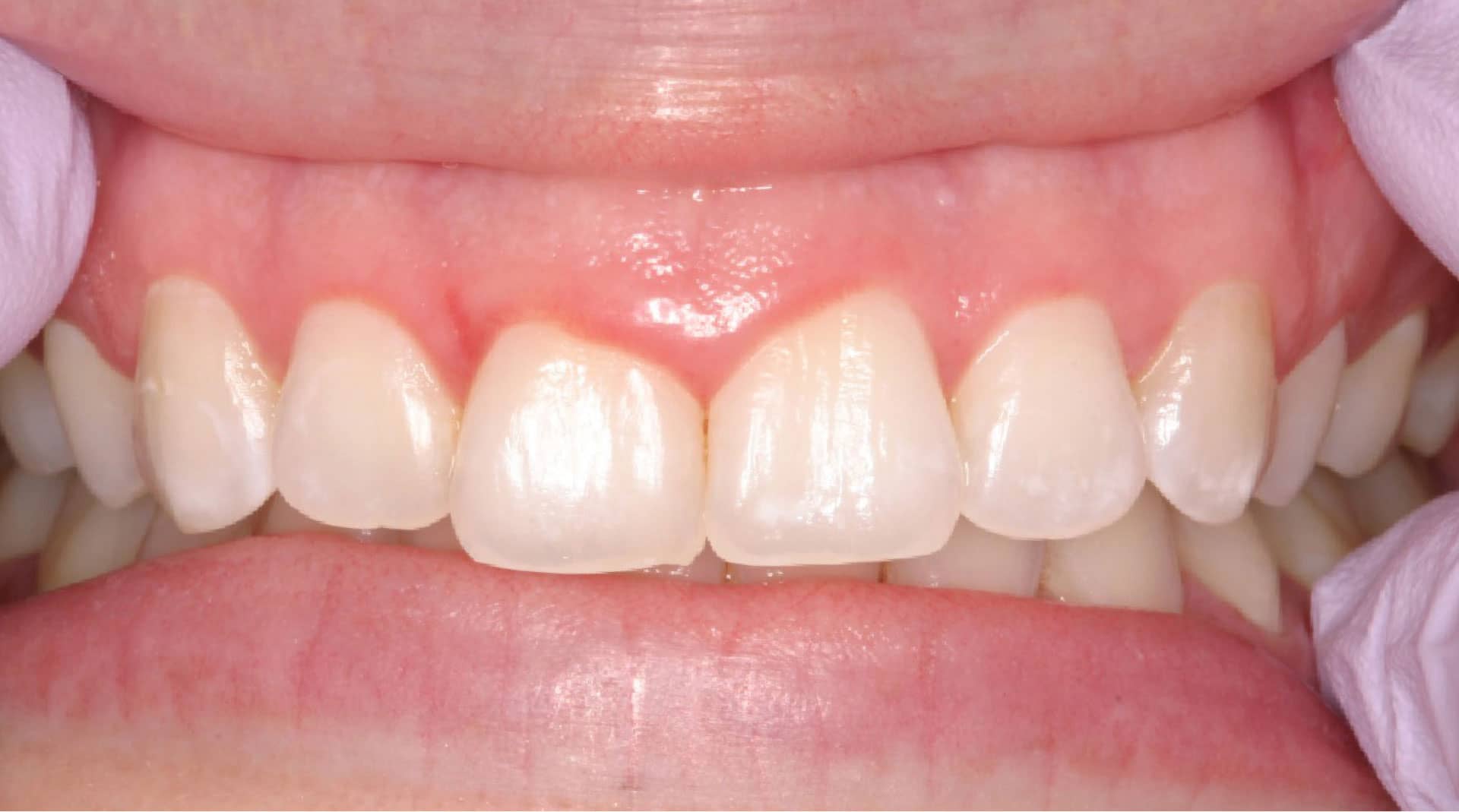 Real Patients. Real Results.
Patient was unhappy with her gummy smile. We performed laser tooth lengthening. We purposely included this 'after' picture so you could see what it looks like immediately post treatment - What a difference!
Visit Smile Gallery
Can dental bonding revitalize your smile?
Are you unhappy with your smile? It's time to consider improving its appearance and function, and dental bonding could be just the thing you're looking for.
Dental bonding is an extremely versatile cosmetic dental solution that uses composite resin to correct minor imperfections in your smile. It's a common treatment that is quick, easy, and comfortable, making it an excellent way to improve the appearance of your teeth.
The composite resin is malleable, so Dr. Alhadef is able to shape it to meet your cosmetic goals. Using a combination of experience, skill, and artistry, he can treat a number of problems, such as discoloration, cracks, chips, gaps, wear, and unevenness. Dental bonding isn't invasive either. Chances are you won't even need anesthetic, and Dr. Alhadef can complete the dental bonding in a single office visit. While dental bonding won't solve every cosmetic dental concern, it is an efficient, cost-effective method of correcting many minor aesthetic issues.
Getting the smile you want is possible.
There are financing options available.
Sometimes the smile you've always wanted can feel out of reach. With financing, you can achieve the beautifully healthy smile of your dreams. We accept all major credit cards, and we also accept payment through CareCredit.
CareCredit® offers deferred interest.
CareCredit allows you to receive the dental care and smile restorations you need while offering low monthly payments and deferred interest for balances paid within a certain period of time. You can apply and receive approval instantly.