"When you couple Dr. Alhadef's incredible ability with the technology and care you receive inside of the practice, there's nobody even close."
Cameron Smith, Actual Patient
The Answer to Missing Teeth
A Comfortable, Permanent Answer to Tooth Loss
Millions of people are missing one or more teeth. The results of missing teeth can be devastating because of a lost ability to chew, diminished self-confidence, and other oral health effects. The effects of tooth loss can be resolved, though, with dental implants.
Historically, the only way to restore function to your smile with missing teeth has been with dentures or partial dentures. If you've worn either, you know they're often a solution that comes with unpleasant side effects such as discomfort, slippage, and more. Thankfully, there is a better solution: dental implants!
Dental implants are a denture alternative that better protects your health. Whether you're missing a few, most, or all of your teeth, dental implants offer solutions for each scenario. These solutions come in several different forms, and the biggest benefits patients notice are the comfort, full chewing ability, and natural-looking appearance.
Unlike dentures, dental implants are not removable. Replacement teeth and crowns are made to perfectly match the rest of your natural smile, and they perform just like any of your natural teeth. Maintenance and care for dental implants is easy too—brushing, flossing, and regularly scheduled professional dental cleanings and evaluations—just like teeth!
Restore
Function
Prevent further
dental issues
Protect
Your Health
Dental implants require a dentist with advanced training and knowledge.
Dr. Gary Alhadef offers advanced, patient-focused care.
With decades of experience and thousands of hours of advanced training, Dr. Alhadef has the knowledge and skills to help his patients with virtually any dental issues they may be facing. His patients don't have to schedule with multiple dental specialists to receive the care they need. Instead, they can have their concerns resolved with the dental team they already know and trust.
Dr. Alhadef takes a physiologic approach to dentistry, ensuring that the teeth, bones, muscles, nerves, and supportive tissues are working as designed and in harmony together. This approach allows for better long-term oral health as well as overall health. He is certified by the Las Vegas Institute in full mouth restoration. He also takes time to explain your current dental health, any possible issues, and treatment options in a way that is practical and understandable.
For dental implants specifically, Dr. Alhadef's experience led him to trust Nobel Biocare implants, world-renowned for their aesthetic excellence and maximum stability even in compromised bone situations. In finishing your beautiful restoration, Dr. Alhadef custom-mills e.max crowns chairside using the CEREC system. These all-ceramic crowns are appealingly delicate in appearance but strong and durable. They are considered the best match to natural teeth.
There are different types of dental implants to cater to different needs.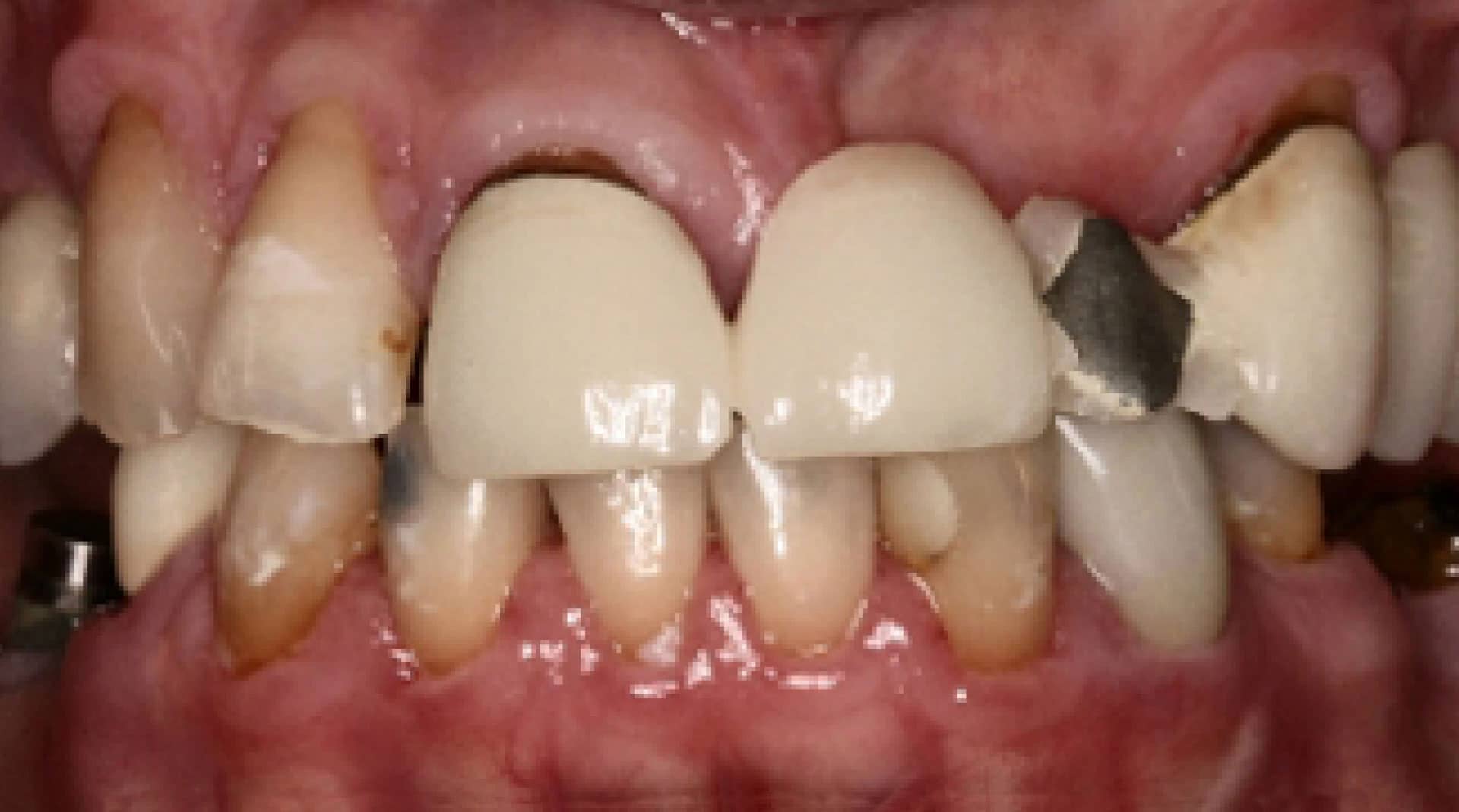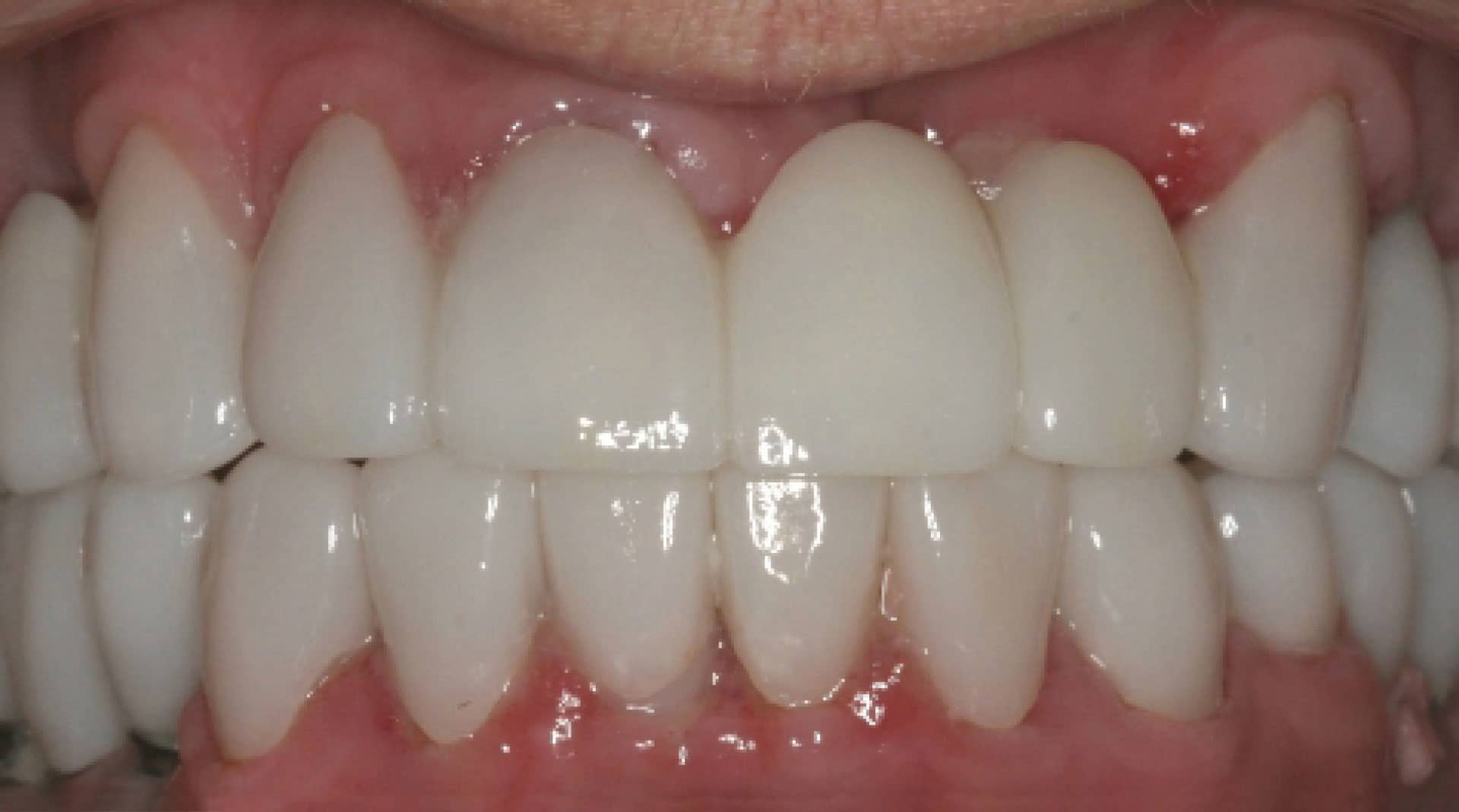 Real Patients. Real Results.
This patient couldn't chew anything anymore and was ready to do almost anything to be rid of the pain and be able to eat normally.
Visit Smile Gallery
Root Form Dental Implants
A Permanent Tooth-Loss Solution
The root form dental implant is the most common type of dental implant. It includes a post that is implanted directly into the jawbone under local anesthesia. After the dentist places the implant, it usually takes three to six months for it to fuse with the jawbone and for the gums to heal fully. Once the implant has healed, Dr. Alhadef can uncover it and cement the replacement tooth in place. The replacement tooth is a crown prosthetic that mimics the shape, size, and look of a real tooth.
Root form implants are used when the jawbone is healthy and thick. If the jawbone has deteriorated, or has lost density, other options may be better.
Am I a dental implant candidate? What type of dental implant is right for me?
For the most part, if you are missing one or more teeth, dental implants are the right choice for you. The only person that can determine if you are a good candidate for dental implants is a qualified cosmetic dentist like Dr. Alhadef. He will evaluate your jawbone and your dental health to determine if you are a candidate for dental implants.
The longer you've gone without teeth and without a tooth replacement, the higher chance that your jawbone has deteriorated to some degree. In certain cases, the jawbone has deteriorated so much that a section of it must be enhanced with an artificial, custom-made jawbone, or bone graft. Patients rarely need this type of dental implant and are typically fine candidates for root form or plate form dental implants, but a thorough evaluation is the best way to know what's ideal for you.
There are clear benefits to dental implants.
Dental implants are an excellent solution for replacing missing teeth. This is because they replace the entire tooth—including the root—not just the visible portion of the tooth. By doing this, dental implants can prevent bone loss, gum disease, and tooth decay better than other cosmetic dentistry solutions. After the dental implant has integrated into your jawbone in a biological process called osseointegration, your new prosthetic teeth will feel stable and durable, and your smile will be fully functional and beautiful again.
Getting the smile you want is possible.
There are financing options available.
Sometimes the smile you've always wanted can feel out of reach. With financing, you can achieve the beautifully healthy smile of your dreams. We accept all major credit cards, and we also accept payment through CareCredit.
CareCredit® offers deferred interest.
CareCredit allows you to receive the dental care and smile restorations you need while offering low monthly payments and deferred interest for balances paid within a certain period of time. You can apply and receive approval instantly.