Thank You for Choosing Us to Be Your Family Dentist in Dallas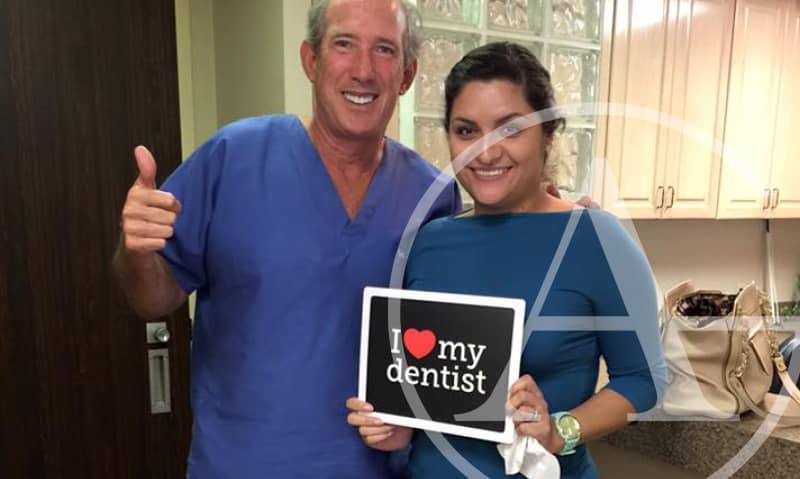 We love hearing from our patients.
At Dallas Cosmetic Dental, we work hard to provide convenient, quality care to each of our patients. We know that everyone is different, so we work with each of our patients' individual needs and wishes rather than trying to treat everyone with a one-size-fits-all approach. Your schedule shouldn't stop you from achieving the healthy, beautiful smile of your dreams, so our staff works with you to find appointment times that are most convenient for you.
It's more than our welcoming attitude and willingness to adapt to your needs that matters, however; Dr. Alhadef uses cutting-edge technology to ensure that we provide the best possible treatment and results to our patients. We want everyone to leave our office with newfound confidence in their smiles.
We appreciate everyone who takes the time to review our office, as these reviews help spread the word about us and help us know what we're doing right. It's a great feeling to know that we're making a difference in the lives of our patients. Since we love reading these reviews, we decided to share our favorite reviews with you—perhaps yours is among them!
Patients love Dr. Alhadef and our staff.
"I've been a patient of Dr. Alhadef's for 8 years now and I am consistently treated respectfully and professionally by the staff. I have come to know everyone there so well that they feel like a part of my family. LOVE the dentist and everyone who works there!" – Jerry T. on National Dental Reviews
"My whole family loves Dr. Alhadef and his staff! They are friendly, on time, reasonably priced, and very convenient!" – Marti L. on National Dental Reviews
"I had a cleaning yesterday at Dr. Alhadef's office. Best dentist, hands down! I'm always greeted with a smile by Dr. Alhadef's friendly staff. Dr. Alhadef is always professional and is not one of those dentists that tries to sell you procedures that you don't need. I recommend him to all my friends!" – Tracie D. on Yelp
"We have enjoyed a relationship with Dr. Alhadef and all of his staff for years. Everyone in the office is friendly, knowledgeable, and welcoming. David and I have beautifully restored smiles that we are so proud of. Thanks to Doc and the great people who work for him!" – Barbara W. on Dallas Cosmetic Dental
Patients love our flexibility.
"Wanted to send a follow up…Dr. Alhadef SAVED THE DAY!! He was amazing! I flew in Thursday night, he saw me Friday morning – even when the office was technically closed. He hooked me up and I just had my 2nd night of pain free sleeping in the past 15 days!!! LOVE HIM!" – Trish S. on Dallas Cosmetic Dental
"I am new to the area and had a cracked molar late one night. I was searching for a dentist and found Dr. Alhadef's website. I filled out the request an appointment form hoping they would be able to schedule me in the next few days. I received an email back in 15 minutes saying he could fit me in the next day. My father was a dentist and I always look for a new dentist that has extensive training at LVI, a leading cosmetic dentistry training facility. As it turned out, Dr. Alhadef has had extensive experience with them. Dr. Alhadef's staff is super friendly and the care I received there was exceptional. I highly recommend his services to anyone looking for a new dentist in Dallas." – Derek S. on National Dental Reviews
"I like Dr. Alhadef but my teeth love him. I found Dr. A in DMagazine's annual doctor issue a couple of years ago. I quit my last dentist because I could only get in when their calendar allowed. My calendar didn't matter. Dr. A's office is responsive to messages and ALWAYS books me when my schedule permits. I can't say enough about the friendly staff. It felt like I'd known them for years on my first visit. They are simply a great group of ladies! My hygienist gives me a thorough cleaning without digging and heavy-handedness. Dr. A replaced a crown and is filling a cavity next week. I highly recommend this dental practice. They have a patient in me for a very long time." – Charlotte Scott on Facebook
Patients love how experienced we are.
"Dr. Alhadef is the best dentist that I have ever gone to. He has corrected my bite and he is the first dentist who has successfully put in crowns that don't crack immediately! I have short teeth and crowns have been difficult for me to get the height correct for my bite without breaking the porcelain crowns. Since I started coming to Dr. Alhadef I have not had those issues. I also love the staff and feel that they take a genuine interest in me and my dental care. Very happy with my experience. I did not have a good experience with my last dentist, so this last year has been wonderful!" – Trina R. on Yelp
"I feel comfortable that my dental health is being looked after by a very professional staff that is concerned with my teeth's long term care. Doctor Alhadef provides very specific analysis and excellent workmanship as to what needs to be done to make sure my dental needs are met." – Charles A. on National Dental Reviews
"Great experience! The dentist and staff are very efficient and a pleasure to work with. I am very pleased with the treatment and cosmetic work that I received. I greatly appreciate the time and effort they spend with each individual patient!" – Kam J. on Yelp
It's encouraging to read evidence that our efforts to go above and beyond to give our patients the care they need in a timely, convenient manner has made a difference in their lives. The long-term relationships, even friendships, that we have forged with our patients over the years or months that they have been with us is a big reward in and of itself. At the end of the day, our priority is that you have access to great care, regardless of your budget or how busy your schedule is; everyone should have the opportunity to leave our office with a healthy, beautiful smile.
If you're interested in becoming a patient at Dallas Cosmetic Dental, or if you're already a member of the family who needs to set up an appointment, feel free to call and work with us to find a date that fits your schedule.