The Ultimate Dental Experience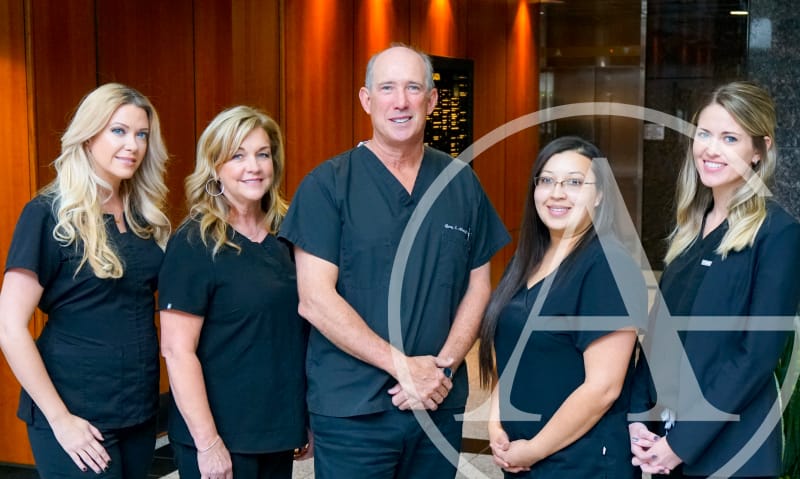 Your oral health and your smile are important. That's why you want to know that you're working with the best dentist in Dallas, Texas. When you choose Dr. Alhadef to treat any of your dental needs at Dallas Cosmetic Dental, you're signing up for the ultimate dental experience.
Enjoy these benefits with Dallas Cosmetic Dental
Catered to Your Busy Schedule
Everyone needs dental care, but that doesn't mean everyone has a schedule that makes it easy to get care. At Dallas Cosmetic Dental, we understand just how difficult it can be to fit dental care into your schedule, and we're more than happy to help make things easier.
We do a few things differently to make the experience as easy as possible for busy professionals. We offer virtual consultations, when possible, to discuss your dental issues and potential treatments. When you do visit our office, we keep wait times to a minimum and institute effective procedures so we aren't wasting anyone's time.
All of Your Dental Needs
Dr. Alhadef and the team at Dallas Cosmetic Dental offer an extensive range of dental services. These services include general dentistry, cosmetic dentistry, restorative procedures, and more.
We work with the latest technology and methods to provide the best possible results for as many situations as possible. Our laser dentistry provides an innovative and non-invasive method to deal with cavities, tooth decay, and gum issues.
We have everything you need, from Invisalign to the dental veneers Dallas residents need to perfect their smiles. Dr. Alhadef also offers periodontal therapy, bonding, inlays and onlays, crowns, bridges, and teeth whitening services in a treatment plan tailored to each patient.
Personalized Dental Care
When you come to Dallas Cosmetic Dental for your dental care, you'll always receive personalized treatment geared toward your needs. Dr. Alhadef will listen to all of your concerns so that he can develop a clear, accurate understanding of your experience.
This understanding allows him to create more effective personalized treatment plans that provide the ultimate dental experience. Every patient is unique, and so is the care they receive at Dallas Cosmetic Dental.
A Welcoming Environment
There are plenty of factors that go into your patient experience, and we understand that the atmosphere our dental office offers is one of them. That's why we ensure that the environment is comfortable and relaxing to help every patient feel completely at ease.
Our team prides itself on always being friendly and patient. We're happy to welcome new patients and have built lasting relationships with many returning patients in our community.
Dr. Alhadef and the team at Dallas Cosmetic Dental take the time to get to know each patient. In doing so, we build a strong foundation for our continued relationship and for your personalized treatment plan to achieve the best possible results.
Convenient Features for Traveling Patients
Dr. Alhadef's expertise is sought out by patients from across Texas and beyond. To make their experience as straightforward as possible, we offer our VIP dental service. Dallas Cosmetic Dental takes care of everything with this exclusive concierge dentistry service.
We can provide transportation to and from our office—a convenient bonus for anyone visiting the area. In fact, our local concierge guide can help book your stay in the area as well. You really can leave everything to Dallas Cosmetic Dental.
You can also reach out to Dallas Cosmetic Dental to discuss reservations for a private experience. We can arrange appointments outside of regular working hours as well. We seek to deliver the best in our VIP dental service, and we will accommodate patients however possible.
Exceptional Treatment from a Top Dentist
You want to make sure that you're receiving a great patient experience in addition to the very best in dental care. Dr. Alhadef is a widely sought-after dentist with expertise in general dentistry and a reputation for being the best cosmetic dentist in Dallas.
He brings together the experience and skill necessary to provide expert dental care with the artistry and intuition to achieve the best possible cosmetic results.
Together with the latest technology, like laser dentistry, Dr. Alhadef's experience and skill provide the patients at Dallas Cosmetic Dental with the results they seek. Patients can know that they're getting the very best care for their oral health and the appearance of their smiles.
Schedule Your Consultation
Are you in need of  dental services in Dallas? If so, Dallas Cosmetic Dental could be the right choice for you. Dr. Alhadef and his team would be happy to get to know you and let you know what your treatment options are.
Contact us to get started today.