Our Top 5 Favorite Local Eats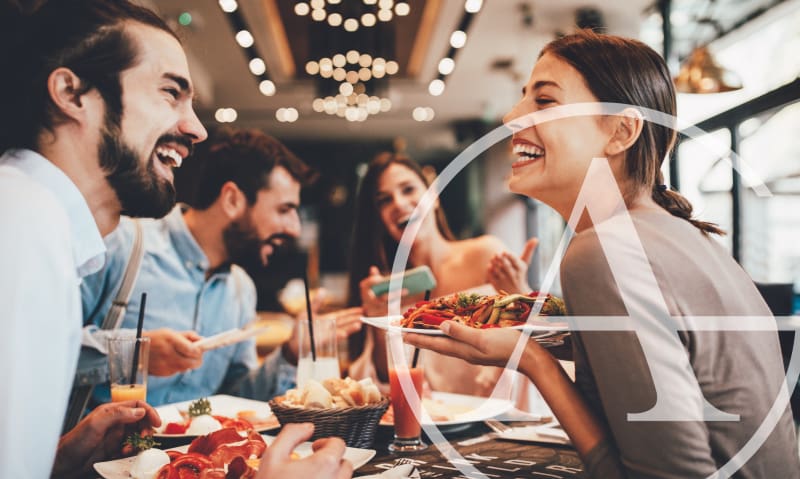 Eat your way around Dallas, TX.
It's no secret that we love food in the South. We love any excuse to eat: weddings, sports events, fellowshipping after church—even funerals are usually well-stocked with plenty of comfort foods. While Dallas has plenty of great places to eat, when you live and work in the city, it's easy to get stuck in a rut. At Dallas Cosmetic Dental, we love food just as much as you do—so if you're looking to branch out and find a few new places to eat in the area, we're all too ready to throw a few suggestions your way! Here are a few of our favorite local restaurants that you might like to give a try.
1. Zoe's Kitchen
If you're hoping to go out for a laid-back lunch or dinner, Isabel, a dental assistant at Dallas Cosmetic Dental, recommends trying Zoe's Kitchen. The food is inspired by Mediterranean dishes, with an emphasis on simple, healthy meals. Zoe's Kitchen is an eat-in restaurant with quick service in mind; you order and pay at the cash register, take a number, and wait for your food to be brought to you. Once you have your food, it's self-service. You get your own drink refills and bus your table by removing your dirty dishes when you're done eating—though an employee will clean the table after you leave.
This makes Zoe's Kitchen perfect for eating at your own pace. If you're in a rush, you can eat and leave as quickly as you want without worrying about when the waitress will bring you your bill, but you can also sit and chat for as long as you'd like. Despite the speed with which you receive food, the quality of the food is much higher than that of fast food restaurants—it's a real meal instead of greasy fast food. Since the atmosphere is so laid-back and costs aren't high, it's perfect for a budget date night or for a lunch out with friends.
2. Sixty Vines
When Michelle isn't busy assisting chairside, she's managing the dental office, She also prefers the atmosphere and wine at local restaurant Sixty Vines for unwinding. It's all about pairing great wine with delicious food that complements the wine's flavor. They serve wine on tap so that you can try a different wines and ensure that each glass complements your meal. The food is American-inspired and sourced from local farmers, with anything from pizza and sandwiches to pasta, chicken, or salmon. Sixty Vines has a unique atmosphere: it's modern and classy without being stuffy, and the open kitchen allows you to enjoy the sights, sounds, and smells of your food being cooked!
If you love wine and you're looking for somewhere new and trendy to go, Sixty Vines is a great place to check out. The restaurant gets absolutely packed on the weekends, so you might want to call ahead and make reservations for dinner to avoid potential wait times.
3. Hillstone
If you're looking for the perfect place for a fancy date night, anniversary dinner, or other special occasion, Hillstone is a great choice. This is Dr. Alhadef's favorite restaurant, and it's easy to see why—in addition to the delicious food, the restaurant's prominent wood beams, exposed brick, and leather upholstery give it a cozy but elegant atmosphere. To fit its upscale vibe, you should plan on dressing up a bit. You don't have to dress to the nines, but Hillstone considers hats, flip-flops, and tank tops to be too casual to match the restaurant's dining experience. Dr. Alhadef of Dallas Cosmetic Dental recommends coming for lunch or dinner to enjoy Hillstone's choice American fair, which includes burgers, fish, and steak.
4. Ziziki's
If you're in the mood for Greek food, our dental hygienist, Ann-Marie, recommends Ziziki's as just about the best place to get it. Ziziki's is owned and operated by a local Dallas family and represents the best of Greek food, with plenty of flavor and an emphasis on meals that include healthy fruits, vegetables, and grains. Ann-Marie recommends trying Ziziki for dinner, but they also serve lunch and brunch, the latter of which includes a buffet. Ziziki's has just enough of a laid-back atmosphere to suit just about any occasion, whether you're going on a date, reserving the dining room to host a party, or somewhere in between. You can even enjoy Dallas' beautiful weather by eating outdoors on their sizable patio.
5. Peggy Sue BBQ
This restaurant has a long history in Dallas. It first opened in 1958 and has maintained the look and friendly atmosphere of a cozy 1950s BBQ joint ever since. The meat that Peggy Sue BBQ serves is locally sourced but very reasonably priced and packed with flavor, and the restaurant carries a selection of beers, wines, and cocktails. This makes it a great place for a relaxing evening out that won't blow your budget.
No matter what your favorite kind of food is, Dallas is a melting pot of cuisines and has a little bit of everything. With some searching, you'll be able to find a new favorite spot that fits your taste buds and your budget. If one of the restaurants we suggested hits the nail on the head for you or your family, feel free to let us know at Dallas Cosmetic Dental, at your next appointment!