Famous Things About Dallas, TX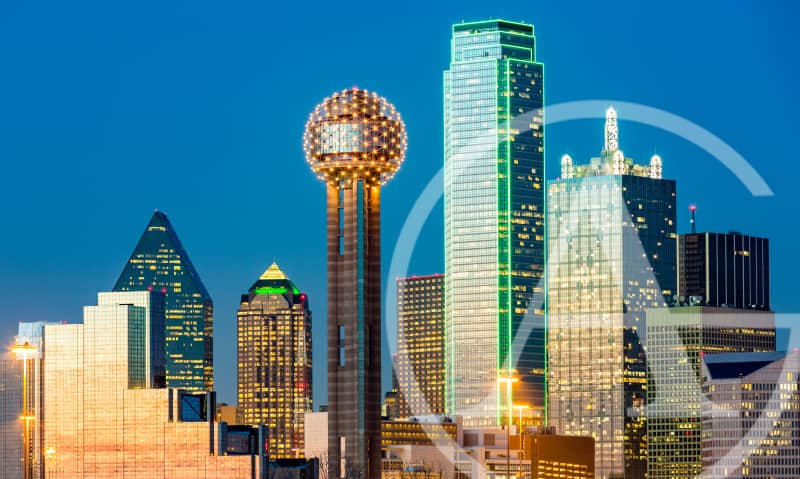 Dallas is a beautiful city, holding the honor of the third-largest city in Texas. Despite the modern skyscrapers that dot its skyline, Dallas has a long and rich history. You'll find plenty of historic monuments and buildings nestled alongside their modern counterparts. Whether you've lived in the city your entire life or moved here recently, there are famous events in Dallas' history that come to life when you visit the sites where they happened.
These events shaped Dallas into the successful hub that it is today. Dallas is still flourishing, producing modern architecture and sites that are famous throughout the country. Here are just a few of the famous events and places for which Dallas is famous.
The Foundation of Dallas
The foundation of Dallas story has been told so many times that it's gathered an air of near folklore. John Neely Bryan was the first settler of what would later become Dallas, choosing a natural ford in the river as a great place to trade with Native Americans and settlers alike. He settled there in 1839, but then returned to his home state of Arkansas. When he came back to Dallas in 1841, a treaty had been signed that drove the Native Americans from the land; without their business, Bryan decided to form a settlement instead.
While it's often assumed that Dallas was named after George Mifflin Dallas, who served as a vice president of the U.S., there's no evidence that Bryan ever met him. No one really knows how Dallas got its name. In the settlement's early days, Bryan fulfilled a lot of odd jobs; his house was even the settlement's courthouse. Today, you can visit a replica of his cabin in Dallas' Founders Plaza.
The Old Red Museum
This stunning red sandstone building was built in 1892 and served as Dallas' courthouse until 1966. It was added to the National Register of Historic Places in 1976 and a  two-year restoration process was completed in 2007. The courthouse is now a museum dedicated to educating people about the economic, political, social, and cultural history of Dallas. The Old Red Museum is well situated for this; it's located across the street from the replica of Bryan's cabin and very near the JFK Memorial, Dealey Plaza, and the Sixth Floor Museum. While it'd be very ambitious to see all of these historic sites in a single day, their close proximity makes it much easier to learn about Dallas' storied history.
Majestic Theatre
As the last remaining part of Theater Row, Dallas' historic entertainment street, Majestic Theatre was a hub of entertainment in its prime. It was built in 1920 and opened the following year, welcoming performers such as Houdini and Mae West to its stage. The theater began playing movies in 1922 but didn't become a full-time movie theater until 1932. It was restored in 1976 and was the first building in Dallas to be placed on the National Register of Historic Places. Since its restoration, you can not only see the restored exterior of the building, but you can attend one of the live performances that are still held in the theater.
Juanita J. Craft Civil Rights House
The Civil Rights movement was a huge part of American history; without it, Dallas wouldn't be the diverse, welcoming, successful city it is today. Juanita Craft played an integral role in the Civil Rights movement in Dallas, often sitting in the "whites only" section on her frequent train rides and helping to integrate lunch counters, restaurants, theaters, two universities, and the 1954 Dallas State Fair. Her house, where both Martin Luther King, Jr., and Lyndon Johnson visited her, is one of the few house museums honoring women of the Civil Rights movement.
The Bishop Arts District
This is a historic part of Dallas that really shows off the city's historic and artistic side. In the 1930s, the Bishop Arts District was the busiest stop of the city's trolley. Nowadays, there are a host of independent shops, restaurants, coffee shops, and bars to visit. It's an incredibly walkable area that feels more like a small town than a part of the city, making it a great place to take the family or wander alone. It also boasts a selection of art galleries and antique shops. Despite its small-town feel, the Bishop Arts District has been featured in many national publications, making it a famous Dallas attraction.
The Assassination of John. F. Kennedy
Kennedy's assassination has been called the most important event of Dallas' history; it put Dallas on the international stage, and the shooting had far-reaching consequences. Kennedy was shot while driving through Dealey Plaza with his motorcade on November 22, 1963. Police believed that Lee Harvey Oswald shot Kennedy from one of the windows on the sixth floor of the Texas School Book Depository, and spent cartridge shells were later found at one of the windows to confirm this theory. That floor was transformed into the Sixth Floor Museum, which details Kennedy's life and death. Visitors can even stand in the window where Oswald took his infamous shots. You can also visit the Texas Theatre, where Oswald was arrested after ducking inside a movie showing in an attempt to evade police.
Reunion Tower
Constructed in 1978, this is one of the newer buildings on this list, but its fame and prominent position in Dallas' skyline make it worth seeing. It's Dallas' fifteenth-tallest building, and the revolving platform at the top provides stunning views of the entire city. Although it's a popular tourist attraction, it's also a great place for residents of Dallas to go at least once; there's something special about seeing your city laid out so beautifully from so high up.  
White Rock Lake Park
If you're looking for some outdoor activities and beautiful scenery without leaving the city, White Rock Lake Park is a great place to go. The park has more than 9 miles of hiking and biking trails, a dog park, and a lake on which visitors can kayak or canoe. There's also a museum, a bird-watching area, an arboretum, and much more. It's one of the city's most popular park systems and is known for hosting public events, making it a well-established landmark of Dallas, and a great way to escape the bustle of city life.
Although it's a huge and modern (and, yes, famous) city, Dallas has held onto its history in a way that blends it with its present. The city has a lot to offer the people who choose to call it home, from its rich history and artistic streets full of independent businesses to modern architecture and large parks. You'll find no shortage of things to do and places to explore when you venture onto the city's streets, and what you'll find there will make you proud to call Dallas home.
Read More