Dr. Gary Alhadef Is the Best Cosmetic Dentist in Dallas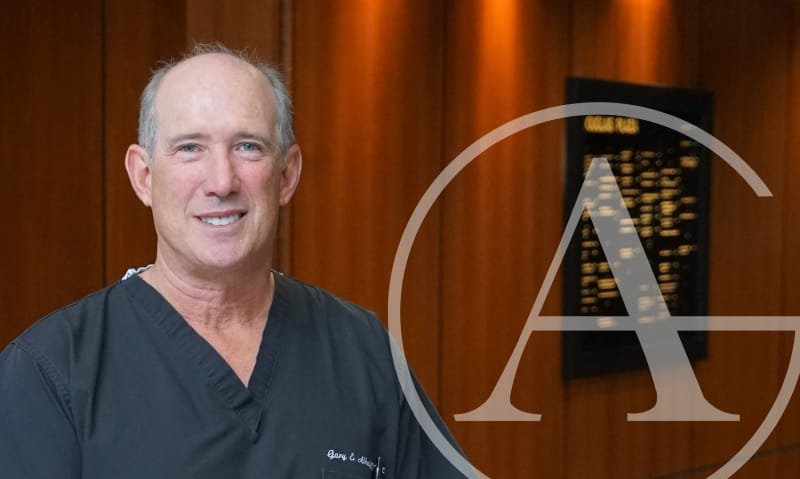 Expert Dental Care in Dallas, TX
If you're looking for the best cosmetic dentist in Dallas, TX, to handle crowns, dental implants, veneers, periodontal therapy, Invisalign, or any other cosmetic dentistry treatment, stop by Dallas Cosmetic Dental. Our team is led by Dr. Gary Alhadef, DDS, an experienced, skilled, and caring dentist who ensures that every patient gets the care they need.
Dr. Alhadef is a member of the American Dental Association and the Texas Dental Association, as well as many other professional associations and societies.
He shares his exceptional skill in cosmetic dentistry, not just with his patients, but with the broader public as well. Dr. Alhadef has been published in the "Washington Post" and appeared on the Odyssey Channel's "Cope" as a featured dentist.
Patients at Dallas Cosmetic Dental can rest easy knowing that they're receiving top-of-the-line treatment from the best dentist in Dallas. Dr. Alhadef is committed to excellence and quality results through his practice and his other contributions to cosmetic dentistry.
Personalized and Caring Cosmetic Dentistry
The patient experience is incredibly important and has a significant impact on the results that any patient receives. That's why Dr. Alhadef strives to provide every patient with truly individualized treatment and care.
Dallas Cosmetic Dental offers an extensive range of cosmetic treatment procedures, and a lot goes into ensuring that each patient gets the proper treatment for their unique needs. Dr. Alhadef takes the time to hear your concerns, get to know your goals, and find the treatment plan that's just right for you.
We're focused on building real relationships with our customers so that we can provide for all of their dental needs: cosmetic, restorative, and otherwise. We want to make sure that you get the proper treatment to give you the smile of your dreams and a lasting foundation for lifelong oral health.
What Dr. Alhadef's Patients Have to Say
Dr. Alhadef has helped countless patients achieve better smiles and improved oral health over the years. They have benefited from his personal approach and experience. Here's what some of his patients have said about the best dentist in Dallas.
Brenda C. says, "Gary is the best cosmetic dentist in Dallas. He is a perfectionist, and when it comes to your smile, you want perfection! The staff are caring, friendly and professional."
Susan M. says, "From the moment I walked into his office, I felt immediately welcomed both by Dr. Alhadef's team members and the warm, comfortable vibe of the waiting room. The subsequent service and care were impeccable; the treatment results amazing. Definitely will return. The best experience!"
Ann-Marie says, "Dr. Alhadef is very good at what he does and aims to provide the BEST possible care to every patient. If you are looking to try a new dentist, he is the person to call!"
These are just a few examples of the patients Dr. Alhadef has provided expert dentistry treatments for. Every patient receives a truly personalized treatment plan from the best cosmetic dentist in Dallas, as Dr. Alhadef provides them with a great patient experience and the best possible results.
Dr. Alhadef's Cosmetic Dentistry Services
Dr. Alhadef has expertise in an extensive range of cosmetic dental treatments. This allows him to develop the ideal treatment plan for any patient's unique dental situation. In combination with the state-of-the-art equipment at Dallas Cosmetic Dental, this gives patients a truly unique experience and exceptional results.
Patients can achieve improved smiles with a range of restorative dentistry options. Dr. Alhadef provides implant dentistry, dentures, dental crowns, bridges, inlays, and onlays. There are options for anyone to have the smile of their dreams.
These treatments are aided by the latest dental imaging technology and restoration methods. Dr. Alhadef uses the CEREC method to provide same day crowns and other restorations, allowing patients to enjoy the benefits of crowns without requiring multiple sessions.
Dr. Alhadef also brings patients brighter smiles with treatments like in-office or at-home tooth whitening, porcelain veneers, and more. Patients can achieve the noticeably whiter, flawless smile they're aiming for.
You can also get Invisalign treatment from the best dentist in Dallas. Dr. Alhadef can help you achieve straighter teeth with this and other orthodontic treatments. With laser gum contouring, you can achieve a carefree grin through a simple, non-invasive procedure. Dr. Alhadef provides a full range of these and other cosmetic treatments.
Visit the best dentist in Dallas.
If you're concerned about the appearance of your smile or any other dental issues, schedule your appointment with the best cosmetic dentist in Dallas today. Contact Dallas Cosmetic Dental online to book your appointment with Dr. Alhadef and start your journey to the smile of your dreams.