Don't Sweat It in the Dental Chair! Choose Sedation Dentistry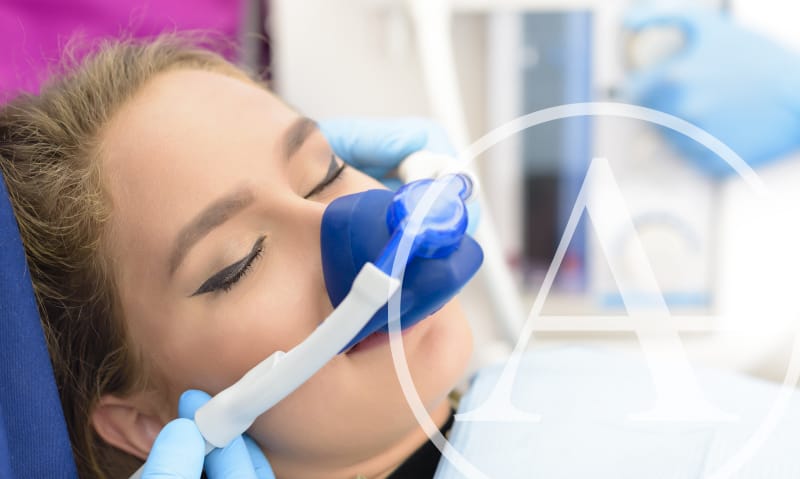 Adult Dental Anxiety
It's not uncommon for adults to experience dental anxiety. In fact, it's estimated that dental anxiety is experienced by more than 75% of the adult population. So if you're afraid of needles or get nervous when thinking about spending time in the dentist's chair, and you happen to need extensive cosmetic or restorative dental procedures, you should know that there are options to manage your anxiety. Sedation dentistry makes going to the dentist a much more tolerable experience than it was in the past. Read on to learn more.
What is sedation dentistry?
With sedation dentistry administered by Dr. Alhadef at Dallas Cosmetic Dental, we provide patients with a drug before or during their dental procedure. In most cases, the patient remains awake but comfortable, pain-free, and relaxed throughout the process. In the case of general anesthesia, however, the patient is rendered unconscious for the duration of the procedure.
Dr. Alhadef uses many different types of medications to sedate his patients. Many patients assume sedation dentistry requires them to be asleep during the procedure, but that is not typically the case. Some of the most commonly used drugs to sedate patients include:
Triazolam
Diazepam (Valium)
Lorazepam (Ativan)
Zaleplon (Sonata)
Hydroxyzine (Vistaril)
These medications have all been proven safe and effective for use in sedation dentistry. The specific drug that Dr. Alhadef will use for your procedure will depend on your medical background and the type of work you need to have done. Some of these medications can make you tired, so in those cases, you will need to have a responsible adult drive you home after your dental procedure.
Who benefits from sedation dentistry?
Sedation dentistry is not for everyone, but there are indeed situations where patients can benefit. In particular, if you have one or more of the following conditions, then sedation dentistry might be an excellent option for you:
Patients who fear needles
Patients who have difficulty becoming numb after Novocaine
Patients requiring multiple dental procedures
Patients who have had negative past experiences at the dentist
Patients who have a strong gag reflex
Patients suffering from other physical disabilities
Benefits of Sedation Dentistry That You Can Enjoy
Here are all the benefits that sedation dentistry may provide you with:
1. Anxiety Relief
While some dental patients experience just a bit of pre-dental procedure anxiety, other patients become entirely overwhelmed with terror that a dental procedure will be painful. Even worse, they may fear that a procedure will go wrong. Sedation dentistry can help these patients receive the dental care that they need, keeping them comfortable and safe from pain and discomfort at the same time.
2. A Faster Dental Procedure
The more comfortable the patient is in the dental chair, the more efficiently and effectively the dentist can work. This means that Dr. Alhadef will be able to get you out of the dental chair and on the road to recovery from your procedure that much faster. So if you've been putting off having a much-needed dental procedure done because you've been nervous, chances are that you're a good candidate for sedation dentistry at Dallas Cosmetic Dental.
3. Anterograde Amnesia
Don't let the concept of amnesia cause you any other fear because, in this case, amnesia is a good thing. When it comes to sedation dentistry, amnesia, specifically anterograde amnesia, is desirable. The fear that many patients have of the dentist often stems from a poor experience that took place during childhood. Unfortunately, that fear tends to grow with each additional visit. However, there is no further build-up of fear with sedation dentistry since the mind can't develop new memories during the procedure. So this means that the patient may experience less and less anxiety with subsequent visits. And this is a win-win situation for everyone involved!
Seek an experienced sedation dentistry professional like Dr. Gary Alhadef for your next dental procedure
If you believe that you have dental anxiety and could benefit from dental sedation, now is the time to seek a professional sedation dentist near Dallas, Texas. And, you won't find one better than Dr. Gary Alhadef, who believes in making his patients as comfortable as possible as he performs any one of the numerous cosmetic dental procedures he offers.
Dr. Alhadef practices sedation dentistry and can make your visit to his office a comfortable and even pleasant experience. So if you've been putting off dental treatment due to anxiety, now is the time to request an appointment and see the team at Dallas Cosmetic Dental. Let us help you through your dental anxiety with our comfortable, patient-centered approach to sedation dentistry.
We look forward to seeing you!