6 Valentine's Day Gifts for Him and for Her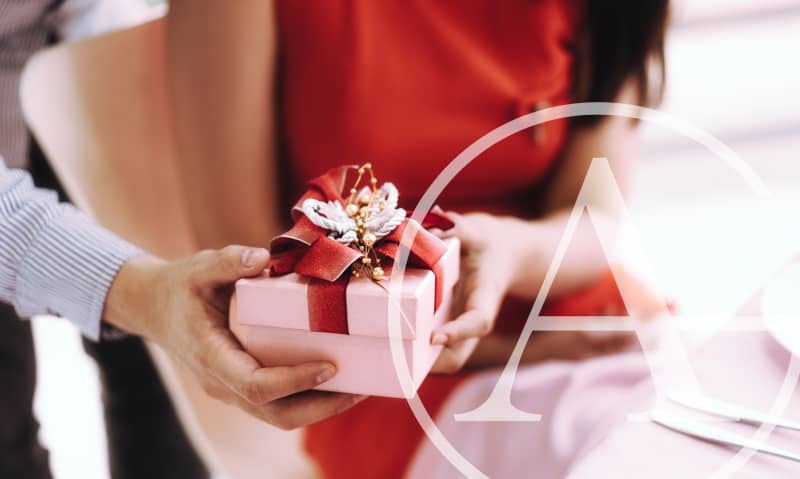 Valentine's Day will be here before we know it. And that means it is time to think of something creative for that special someone. It can't be just anything, after all, since Valentine's Day is all about showing appreciation, respect, and admiration for those we love the most. But whether you have been with your partner for just a few months or for decades, it can be challenging to come up with gifts for him or gifts for her. But don't worry, the team here at Dallas Cosmetic Dental has got you covered. We've put together a list of some of our favorite Valentine's Day gifts. And who knows, maybe our special someone will read this too.
Gifts Perfect for Valentine's Day 2022
If you have a particular female in your life, then chances are you are scratching your head trying to think of the right gift. It can be challenging to find gifts for her. Gift-givers all over America struggle with the same puzzle—does she want chocolate when she watches her waistline (plus chocolate isn't very good for her teeth)? How do you buy her clothes unless you are 100% confident you have the right size? We understand your predicament. But with these suggestions, you'll be sure to hit the mark.
Gifts for Her
1. Diamonds are a girl's best friend.
No, it's not cliché, and we would be remiss to leave out the obvious this Valentine's Day. Whether you are thinking of popping the question (yes, Valentine's Day is the perfect day to do it) or feel a new pair of earrings or a tennis bracelet is more up her alley, it's hard to go wrong with some beautiful jewelry. So head on over to the local jewelry store and let their representatives steer you in the right direction.
2. Everyone loves a white smile.
Don't ever underestimate the power of the perfect smile. Smiles meet us and greet us. They comfort us when we are feeling down. They show love, support, and any other positive emotion you can think of. But over time, our smiles tend to fade, making them not as white as they used to be. So why not treat her to a smile makeover this Valentine's Day. She'll be delighted to indulge in a tooth whitening treatment from the best cosmetic dentist in Dallas, TX, that will not only whiten her smile but will improve her self-confidence too.
3. Indulge in candles and a little bubbly.
Valentine's Day is the holiday for romance. Like we said earlier, it's time to celebrate romantic love, friendship, and admiration. And what better way to do that than by allowing the remarkable woman in your life some time for some self-care? So, buy her some fun scented candles, pour her a bubble bath, and accompany it with a glass of champagne. If you want to step it up a notch, give her some fresh strawberries to enjoy during her bubble bath. Since strawberries contain malic acid, they are a natural whitener for dental enamel. This means that eating strawberries will not only taste good but will help keep her teeth free of stains.
Gifts for Him
Now that we have covered gifts for her, we'll share some of our favorite ideas for gifts for him. That particular guy in your life deserves something equally as unique. And whether he's the tough type or a softie, we guarantee that any one of these gifts will melt your man's heart.
1. Treat him to breakfast in bed.
They say that the way to a man's heart is through his stomach. And all men appreciate a partner who is a good cook. But, even if you are not a great cook, there are plenty of things you can do to prepare a fantastic breakfast in bed this Valentine's Day. Try the waffle brunch gift box from Harry & David, or look for a romantic breakfast gift basket on Etsy. You can always try whipping something up on your own too. We love heart-shaped pancakes, raspberry cheesecake–stuffed french toast, or love toast. But, be sure to consider your partner's unique tastes too. Whatever you do, he'll be sure to appreciate the effort.
2. Spruce up his smile with a tooth enhancement.
Making an appointment at Dallas Cosmetic Dental is easy. If the man in your life has been complaining about broken front teeth and is dismayed about his smile, why not help him with a gift certificate for porcelain dental veneers? Dental veneers are an excellent solution for discolored, gapped, weak, or chipped teeth. And veneers are one of the most popular cosmetic dentistry procedures available today. Your man will be thrilled with his new smile, and you'll love him that much more every time he flashes that smile your way. What are you waiting for?
3. Give the gift of self-care for him.
Men need to take time for some self-care too, and one of the best ways to help relieve tension in muscles is through a massage. So this Valentine's Day, sign your man up for a massage with a reputable local masseuse. Or, get him his own neck and back massager that he can use anytime he wants, all from the comfort of his own home. And if you're going to go another route, offer to give him a massage of your own. We promise he'll love any of these options or a combination of all three.
Valentine's Day is a special opportunity to really spoil the person in your life. Any one of these gifts is sure to show them the effort you put in thinking of the perfect gift to suit them. And if you do decide to go the cosmetic dentistry route, be sure to contact the team at Dallas Cosmetic Dental for a consultation. We can't wait to transform your smile!