4 Things That Are Different About Dallas Cosmetic Dental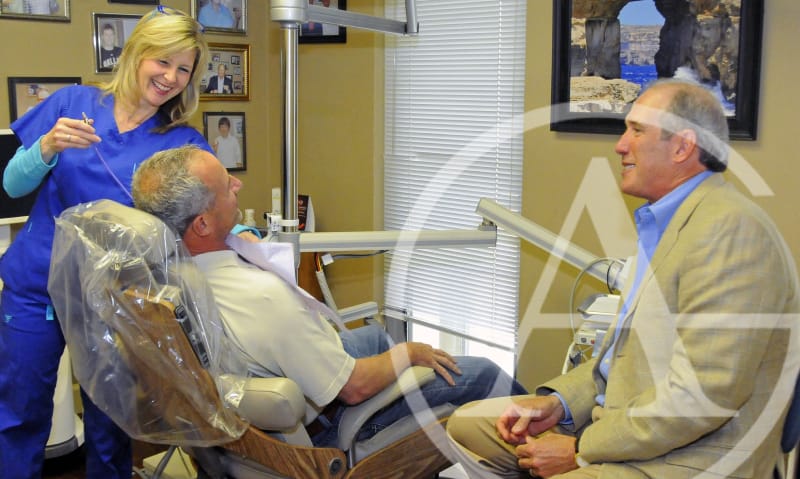 Kindness, Caring, and Cosmetic Dentistry
Here at Dallas Cosmetic Dental, we are your one-stop-shop for modern dentistry with old-fashioned caring.

Our team is kind, knowledgeable, and talented. With around 58 percent of the population suffering from some form of dental anxiety, we know how important it is to ease any discomfort a patient may have during their time in our chair.

We believe by having the latest technology, the most up-to-date knowledge, and a wide array of services paired with the compassion of our team members, we can provide every patient a calm, comfortable experience.

Here are four things that set us apart from other dental options in the area.
The Dallas Cosmetic Dental Team
The Dallas Cosmetic Dental team has the skill, talent, and know-how to perform a comprehensive array of services. This means fewer redundant visits, referrals and less travel to varying specialists.

We offer implants, same-day crowns, and digital imaging for a fast, comfortable patient experience. We also have a reputation for expert artistry in creating beautiful, natural-appearing veneers. And that reputation is no fluke. We've built it by having the best professionals as part of our team. Who are those professionals?

Robyn Brown, our registered dental assistant, graduated from Texas State Technical College. Her certifications and trainings span x-ray, CPR, cosmetic dentistry, biological dentistry, and neuromuscular dentistry.

Ann-Marie Wiley is our registered dental hygienist. She graduated from the University of Louisiana at Monroe with a Bachelor of Science in dental hygiene. Her other trainings and certifications include diode laser certification and nitrous oxide/oxygen inhalation conscious sedation motorization.

When visiting the office you'll also find the wonderful smiles of Grace Smedley, our office manager, and Julie Dallas, our scheduling and financial coordinator. And let's not forget about Dr. Alhadef. His skill and leadership are a major part of what sets our practice apart.
Dr. Alhadef—Your Cosmetic Dentist
Dr. Gary Alhadef, Doctor of Dental Surgery (DDS) graduated, with honors, from the University of Texas with a degree in psychology before he went on to pursue dentistry at the Baylor College of Dentistry. Since then he has taken hundreds of continuing education courses to provide you the best, most up-to-date experience and services possible.

He is a proud member of the American Dental Association, the Texas Dental Association, the Dallas County Dental Society, the American Academy of Cosmetic Dentistry, the American Academy of Implant Dentistry, the Dallas Dental Society Study Club, and the International Association for Orthodontics. He has also been a Member of the American Academy of Cosmetic Dentistry since 1987, was the former president of Alpha Omega Dental Organization, and is Invisalign® Certified.

To say he is fully committed to being a wealth of knowledge for his patients is not an understatement. Dr. Alhadef is passionate about his work and serving each of his patients to the highest degree.
A Part of the Community
Dr. Alhadef also enjoys sharing his knowledge with the community at large through writing and public speaking.

He has an article published in the Washington Post, been a "featured dentist" on the Odyssey Channel's "Cope", is a contributing medical editor for Estate Life Magazine, and gives presentations to local schools, Rotary International Meetings, and at Alpha Omega Internal Dental.

He has also served as a member of the Alpha Omega International Dental Fraternity, the Preston Center Rotary Club, Dallas Chamber of Commerce, Bent Tree Country Club, Genesis Women's Shelter Heroes, and the Christ Family Clinic Board of Directors.
5-Star Feedback
Dallas Cosmetic Dental has a solid 5 stars from 14 reviews on Google, 4.9 stars on Facebook, and 4.5 star rating on Yelp.

But do those numbers really say about our practice? Take a look:

Brenda Casey on Facebook says, "Gary is the best cosmetic dentist in Dallas. He is a perfectionist and when it comes to your smile you want perfection! The staff are caring, friendly and professional."

Jacob King left a Google review stating, "Everyone in the office is so kind and caring. Dr Alhadef was thorough and patient, happy to answer all of my questions. Robyn, who has helped with all my Invisalign appointments has been amazing! Patient, willing to accomodate my schedule, helpful, and a pleasure to work with. Going to the dentist can always be a little nerve racking, but the entire crew at Dr. Alhadef's office made it an enjoyable experience."

And on Yelp Trina R. says, "Dr Alhadef is the best Dentist that I have ever gone too. He has corrected my bite and he is the first Dentist that has successfully put in crowns that don't crack immediately! I also love the staff and feel that they take a genuine interest in my and my dental care. Very happy with my experience. I did not have a good experience with my last Dentist, so this has last year has been wonderful!"
Experience the Difference for Yourself
Come meet the team to experience the Dallas Cosmetic Dental difference for yourself. Make an appointment by filling out this simple, easy to use form or give us a call at 214-817-0650.

If you are a new patient you can take a tour of our office before your visit here. Learn about the wide array of services we offer here. And learn how you can finance any services you may need here.

We can't wait to meet you and provide you with the first-class service we're known for.
Read More