10 Ways to Draw Each Other in Close During the Holidays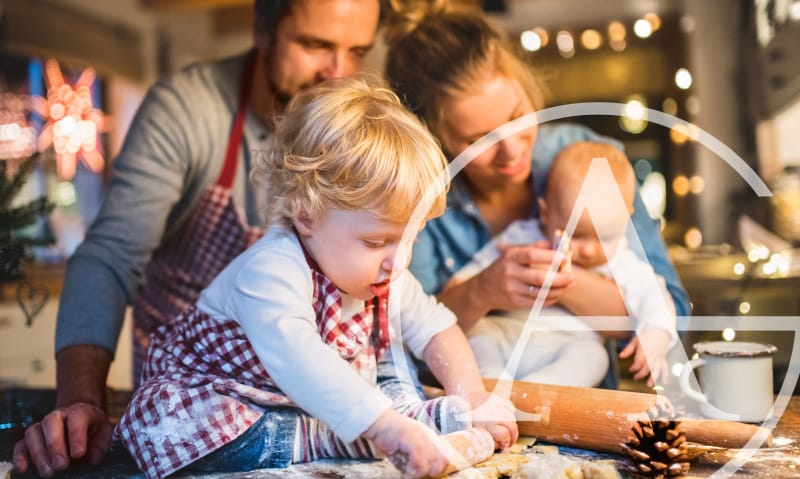 The United States is a beautiful melting pot of different races and backgrounds. This diversity has introduced unique foods, new traditions, and a variety of experiences that we would otherwise not be exposed to. And the holidays are a perfect example of different ways that families celebrate.
But regardless of our backgrounds and beliefs, most families in America tend to take time to celebrate family togetherness during the holiday season. This is because the importance of relationships spans all cultures and backgrounds. But when the holidays are also full of the hustle and bustle and not enough time to do this or that, how do we ensure we are taking the time to draw each other in close?
Why relationships and family togetherness are important.
We all know that relationships are crucial to the human psyche and our overall health. But have we ever thought about why? Our family and closest friends know everything there is to know about us. They support us unconditionally, support us, and accept us regardless of our mistakes. For these reasons, that time with those who love us the most can give us a huge helping of love that can last us for the days, weeks, and months to come.
Why the holidays are the perfect time to let others know how much they mean to us.
Many of us consider Thanksgiving as a time to give thanks for all that we have. And we do that by bringing all of our loved ones together and breaking bread at the dinner table. The same holds for other holidays such as Christmas, Hanukkah, Denali, Kwanzaa, and more. The holidays give us a defined time to express what we are thankful for. Counting our blessings shouldn't just be a platitude, however. Showing regular expressions of gratitude is good for our health too. Feeling grateful and encouraging feelings of love and happiness can decrease blood pressure, reduce anxiety and depression, and even help you fall asleep quicker and stay asleep longer.
10 ways to take time for family togetherness and relationships during the busy holiday season.
It's easy to blame the busyness of the holiday season for not having that together-time with those we love. But, in truth, the busyness of the holidays can help us find more time together than we might realize. When you take time to understand the importance of relationships and look at how you can draw each other close despite the hustle and bustle, you might be surprised that opportunities for family togetherness are right in front of you. Here are some simple ideas to inspire your family to spend time together this holiday season:
Watch a holiday movie together as a family.
Decorate the house for the holidays together. Assign everyone a role, even the youngest family members, and let them be "in charge" of their task. Everyone should be prepared to lend a helping hand.
Need to bake cookies for an upcoming family gathering? Have a family baking day and let everyone contribute and get into the holiday spirit.
Take turns opening gifts so that everyone has a chance to see their loved ones opening their gifts. When we encourage a gift opening free-for-all, we can feel disappointed that we didn't get to see the look on the face of those we loved when they opened the gift that we searched all over town for. Plus, that dedicated attention to each person as they open a gift at a time, can make them feel special.
Celebrate the season with a meaningful Advent calendar, and create conversations as a family as each calendar window is opened at the beginning or end of the day. Some families even take this as an opportunity to share their highlights of the day, using the gift inside the Advent calendar as a spark for conversation.
Do a video chat with family members and loved ones who can't join you in person.
Consider giving an all-family inclusive gift this year instead of just independent gifts. This could be plane tickets for a family vacation or passes to visit a favorite museum or amusement park. Whatever it is, the goal is to create a family experience.
Scour your recipe books and come up with a recipe that the family can make together. This could be a good opportunity to revisit a traditional family recipe and pass on that knowledge to the next generation.
Volunteer at a local soup kitchen or organization for those less fortunate than yourselves.
Invent a new tradition that you can do as a family. Maybe it is an ornament exchange, baking and building a gingerbread house, or creating a DIY family decoration. Whatever it is, select something that you can repeat year after year.
Dr. Alhadef and the team at Dallas Cosmetic Dental wish you and yours the happiest of holidays
The team at Dallas Cosmetic Dental is looking forward to some cherished family togetherness with their own loved ones this year. But we would be remiss if we didn't use this opportunity to tell our patients how much they are appreciated. Whether you are a new patient or have been with us for years, we consider all of you part of our extended family. It's been our mission to provide quality care by seeing each of you as an individual. In true Southern fashion, we build friendly, caring relationships with everyone who walks through our doors. So we hope that you will all be able to enjoy holiday festivities interlaced with family togetherness this year. Until we see you again, happy holidays!