10 Common Questions about Cosmetic Dentistry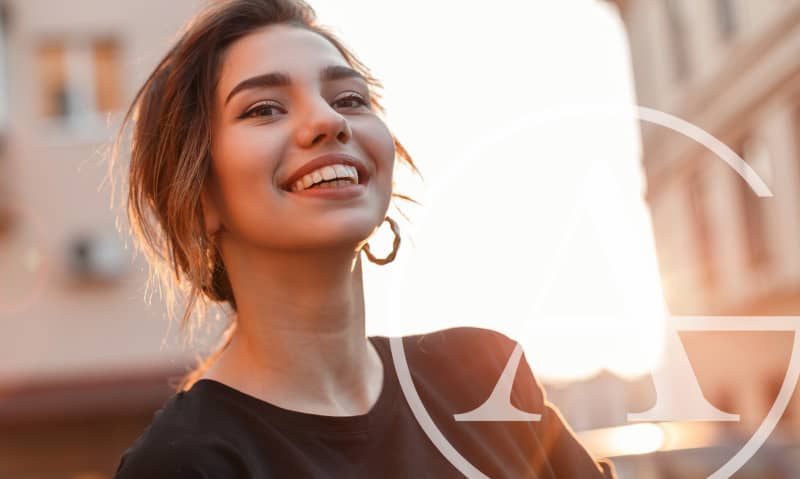 Loving your smile helps you rediscover your self-confidence.
Your appearance plays a large part in the way others perceive you—and, perhaps more importantly, in the way you perceive yourself. Your smile and the confidence with which you deliver it is just as much a part of your appearance as your clothing. While a confident smile can make all the difference during a job interview or a date, it's often hard to deliver one if you're self-conscious about your teeth. Have you ever found yourself covering your smile in public? You may be glad to know that there are plenty of cosmetic dentistry treatments that can give you the smile you've always wanted. Cosmetic dentistry is a wide field with lots of treatment options, however, so it can be hard to navigate the ins and outs of your treatment options. Here are the answers to 10 common questions our patients ask us about cosmetic dentistry.
1. What can a cosmetic dentist do?
Cosmetic dentists resolve a wide range of dental issues.  These include gaps between teeth, gummy smiles, enamel erosion, and yellowed, permanently stained, crooked, damaged, or missing teeth. If you're self-conscious about an aspect of your smile, the odds are that there's at least one procedure that cosmetic dentists can use to help fix it. Since cosmetic dentists are still dentists, however, they'll never resort to procedures that will harm your oral health in the short- or long-term. They use treatments that balance your oral health with helping you gain the smile you've always wanted.
2. Is cosmetic dentistry worth it?
Whether or not cosmetic dentistry is worth it depends entirely upon you! Most people believe it's worth it because it provides lasting effects that boost their self-confidence. There's a lot to be said for being able to smile, sometimes for the first time in a very long time, without worrying about how you look or what others are thinking about your teeth—for many of our patients, it's freeing.
3. How can cosmetic dentistry improve your smile?
Cosmetic dentistry is well-known for its ability to transform the appearance of a smile, and while this is often its main use, cosmetic treatments are capable of much more. They can actually improve the functionality of your teeth and your overall oral health. Issues like enamel erosion and crooked teeth can increase your chances of getting cavities, so adding a protective barrier in the form of veneers or straightening crooked teeth to make them more attractive and easier to clean can decrease your likelihood of getting cavities in those teeth.
4. Is cosmetic dentistry helpful in smile designing?
Yes, absolutely! Smile designing uses technology and treatments employed in cosmetic dentistry to design and create your ideal smile. Each patient who undergoes a smile design gets a unique smile with a combination of multiple cosmetic dentistry procedures, such as veneers, dental crowns, tooth whitening, and dental implants.
5. Will a smile makeover really be beneficial?
In all honesty, smile makeovers are big commitments. They involve multiple procedures over the course of several weeks or months, so they're not for everyone. If you're interested in a smile makeover, it's wise to schedule a consultation with Dr. Alhadef to discuss your options and goals and to get an estimate for the treatment's timeline and cost. Knowing this information up-front is vital to making an informed decision to commit to the treatment, which will minimize your chances of being surprised or disappointed later. If your smile has multiple issues that you want to fix, however, a smile makeover can transform the way you view yourself and help you discover a new level of self-confidence. Depending on what your smile makeover involves, it may even improve your oral health!
6. What can I do to ensure my tooth whitening treatment lasts as long as possible?
Practice great oral hygiene by brushing your teeth for two minutes twice a day, flossing and using mouthwash daily, and visiting Dr. Alhadef for a preventative appointment every six months. It's also best to avoid or limit the contact your teeth have with staining foods and drinks. Drink beverages like soda with a straw to protect your teeth. Additionally, you can receive touch-up treatments once or twice a year, depending on your habits. Sticking to these recommendations can help your teeth stay white for three years instead of only a few months.
7. How common is cosmetic dentistry?
Cosmetic dentistry is surprisingly common and it's on the rise; most adults have undergone some form of cosmetic dental procedure, even if they don't fully realize it. If you've ever gotten a dental crown or straightened your teeth with clear aligners, you've benefited from cosmetic dentistry.
8. How has technology changed cosmetic dentistry in recent years?
Advances in technology have made cosmetic procedures faster, more effective, comfortable, and accessible. Laser scanners have made it possible to create accurate 3D models of patients' teeth instead of relying on messy, nasty-tasting impression putties. Using lasers to cut tissues instead of scalpels is faster, more accurate, reduces bleeding and swelling, encourages faster healing, and causes less pain during and after the procedure. Even treatments like crowns have seen improvement through the development of single-day crowns, which can be designed, milled, and placed on your teeth all in a single visit with Dr. Alhadef.
9. How much does a Hollywood smile typically cost?
Hollywood stars rely on their charismatic smiles, so many pay staggering amounts of money to re-create their smiles. Depending on what procedures they choose to undergo, a Hollywood smile can cost anywhere from $20,000 to $100,000. In fact, the world's leading celebrity dentist, Dr. Michael Apa, charges up to $80,000 for a full set of veneers!
Of course, transforming the appearance of your smile doesn't have to reach anywhere close to those price tags. There's almost magic in the way that little expert touches or skilled, conservative treatments can transform your smile so completely, especially when they're done by a dentist who understands your treatment needs as well as your budget. If you're interested in a smile makeover, it's always best to book a consultation with Dr. Alhadef; this will enable you to share your treatment goals with him, ask questions, and listen to all of your treatment options—some of which you may not have realized were options! You can also receive an estimated timeline and cost for the treatment options you're considering so that nothing takes you by surprise.
10. Will dental insurance cover my cosmetic dentistry treatment?
As a rule, dental insurance doesn't cover most cosmetic dental treatments. While there are exceptions, such as dental crowns and clear aligners, treatments like veneers and tooth whitening are rarely covered by insurance. It's a good idea to check with your insurance provider just in case they will cover a portion of your treatment, but in most cases, you'll need to plan on paying for it yourself. Thankfully, there are plenty of options, such as CareCredit, that can help you afford your care. Feel free to ask our office about these options during your consultation.
Thanks to its wide range of treatment options and advancing technologies, cosmetic dentistry is growing in popularity and accessibility. Whether you'd just like to change a small detail or transform your entire smile, cosmetic dentistry can be the key to you rediscovering a healthier, more confident smile.